Mapuche People
The Mapuche people are the largest indigenous people in Chile.
With a population reaching nearly a half a million people, they still maintain their language, Mapudungun, and large part of their culture, characterized by familiar and religious bonds, which identify them as a real nation.
Before the Inca expansion, the Mapuche people occupied the entire central valley zone. Under the pressure of the Atacameño people from the north, they were partially retreated to the south.
The Mapuche people resisted the Spanish conquest and dominance longer than any other indigenous people in America . Their resistance was based on the defense of their land, or mapu. The people, che, was organized in a fragmentary system stood for the autonomy of their clans and of their social units organized upon their territory and culture.
The lack of a central political authority, due to the fact that power was placed in the hands of local chiefs and wide territorial locations, worked as an obstacle for the Spanish invasion and against the success of the conquest.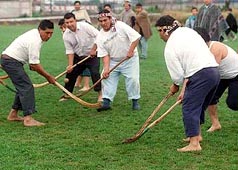 Palin is a communal game practiced by the Mapuches aimed to strengthen friendship between a Lonko and his lof or between two communities. Although the palin is a competition, the encounter and celebration are emphasized, a good reason for avoiding physical damage. Religious ceremonies, dancing and food accompany the game.
The game is played in a large narrow field called paliwe, measuring approximately 90 to 100 meters long by 6 to 10 meters wide. It is played with a wooden or leather ball, or pali, and a 1,2 to 1,3 meters long, curved stick, called wüño.
Each team has a representative who occupies the center of the field, and who also acts as a referee. At the center, a small hole is dug, where the pali is placed. Facing the hole, each team forms a line. The lonko palife, or leaders of the teams, must take the pali out. The players, or palife, dispute the pali, trying to throw it to the opposite border line of paliwe.