The Kawésqar people
The ancient Kawésqar people, or Alakalufe people, inhabited the fjords and channels of the most southern tip of the South American continent. In their canoes, they crossed the Golfo de Penas and the Brecknock peninsula, to the Straits of Magallanes and the land south of Tierra del Fuego.
They fed on sea lions, otters, seals and whales.
The Kawésqar family, while still nomadic, needed only a few simple materials to live: a canoe; a light hut with an oval base, covered with skins, bark and foliage, of fast assembly and disassembly; also some utensils, for hunting, fishing and food gathering.
Their homes were built with a detachable awning covered with sea lion leather.
Ladrillero's words convey the Spaniard's view of the Kawésqar people:
« The people of this bay have good will and are of good art. The men have beards that are not very long. Their clothes are the skins of sea lions. They settle nowhere. They wander in canoes, made of the bark of trees, from one place to another. They eat the meat of sea lions, fish and other animals raw, the same as shellfish.»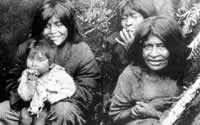 The nomads of the ocean, Kawésqar and Yagáns people, physically were short, long arms and strong people. Their legs, however, were shorter and weaker.
The bodies of these Fueguian canoeists had adapted to the hunting and harvesting of marine products.
Their main activities, rowing, hunting, or diving, required greater strength in the arms and torso than in the legs.
As an average, men measured 1,60 meters and women, 1,47 meters.
Their height was one of the main differences with the Patagonian hunters: the Aonikenk (Tewelches) and Selk'nam (Onas) people could be up to two meters high.