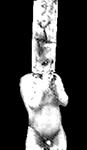 The Kawésqar worldview is based on a group of malignant beings that populated the earth. These beings are a reflection of the hard climatic and telluric conditions in which they lived.
Ayayema: He is a frightful being. He dominates the natural forces and man. The strong wind of the Northwest, that turns boats and house fires, was seen as a manifestation of this malignant being. Kawtcho: He is a wandering night spirit. It is described as a short man, who by day walks below the Earth, and at night emerges from the edge of the water, announced by the barking of dogs.
Mwono: He inhabits the glaciers and mountaintops. He is the spirit of noise and shows himself in avalanches in fjords and glaciers.