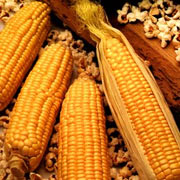 Chicha de Jora and The Andean Worldview
by Rodolfo TAFUR Zevallos
The Andean religiosity is Holistic. For Andean people the reality is composed of three interrelated communities: the nature (sallqa), the human community (runas) and the community of parents (wacas or deities). These are in continuous dialog and reciprocity.
From 21 of June to 31 of Julio, the human community ritually offers CHICHA (sacred berberage) to the Tayta Inti to contribute to its fortification. This ceremony (Kay Pacha)-that is always celebrate on 21 of June- is equivalent to the astronomical phenomenon of appearance of the Pleiades constellation or upper world.
For the Andean worldview, this constellation is the cosmic messenger in charge of give to the Sun a glass of CHICHA (according to the illustration of the month of June by Guaman Poma de Ayala).Then a synchrony occurs: As is Above, So Is Below.
In Peru, exist groups that have recovered this traditions, for example, the group "Integración Ayllu" celebrate the Musuq Wata Tahuantinsuyano which is the celebration of the Winter solstice and the beginning of the Tahuantinsuyano New Year.

CHICHA DE JORA
Ingredients and preparation:
Soak 1 kg maize (prefer yellow color) for 1 day, then let it germinate in humid straw (or wet cloth).When the bud has the size of a grain, strain and ground it. Then maize turn into jora.
Put the jora in a large pot and bring to a boil. For each kilo of jora add 8 Liters of water. Bring to a boil on high heat and let boil for 2 hours (some people boil it for 4 hours).
Sieve Chancaca de caña (dark brown cane sugar) or brown sugar to sweeten. Then put the liquid in a clay pot and let it cool overnight. The end result is a delicious, nourishing and in addition SACRED beverage FOR the INCAS.
Happy Tahuantinsuyano New Year.
Source: Rodolfo Tafur - This email address is being protected from spambots. You need JavaScript enabled to view it.