Selk'nam People
The were a nomadic people, whose livelihood was based on hunting, mainly birds, complemented with gathering berries, fungi and wild roots; along with some marine products.
Their perfected and elaborated arrowheads, more efficient than those of their predecessors, are one of their special characteristics.
The Selk'nam people are supposed to have been related to the Aonikenk or southern Tewelche people by a common branch, from which the first might have separated, occupying Tierra del Fuego.
Selk'nam is the name used by the nomadic people of Tierra del Fuego to identify their people and their culture. That is why this denomination is privileged, since the name Ona was given to them by the Yagán people and became popular after the colonization of the Austral territory, it did not come from the Selk´nam themselves.
This culture possessed a wide and diverse spiritual world manifested in ceremonies such as the Hain, a ritual initiation for adolescent males, in which certain secrets tending towards the preservation of the patriarchy were revealed.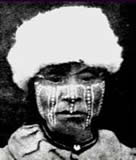 The Yagán people had similar Initiation rituals to the Kawésqar and the Chonos people. These rituals took place when a group of young people reached the age of adolescence, and when there was enough surplus food to be able to have a break in the constant search for substance (a beached whale for example).
According to the observations of the chroniclers of the time, they buried their dead in natural caverns and forests.
The Chiejaus was a veritable school for tribal customs, norms and knowledge necessary for the survival of the community. A fundamental principle in the life of these canoeists was learned: «We, men and women, first of all must be good and useful to the community ».